This post is for all those of you who have been wondering how our relocation from Ireland to Wales has been going, in the midst of a global pandemic. It's for all those of you (and thank you for asking) who have wondered why I've been so quiet recently, on social media, on this blog, on my newsletter – anywhere, really. And it's for me too: a necessary way for a writer to process big events – by writing about them. There are several different stories here; it's not a short post – but it's a post above all about place and belonging. Because for me, that always is, and always has been, at the heart of all of my stories. And the lessons of place never end.
In which what begins well ends badly
It's been a long time since I wrote a blog post, or a newsletter, or anything else very much. The reason for that, as subscribers to my newsletter, or followers of my (also very thin, recently) social media posts will know, is that since the beginning of February, we have been in the midst of a relocation from Ireland to Wales. It all began very well, with a firm offer for our house in Connemara, which enabled us to start looking for a house in Wales. It progressed even more beautifully, with the discovery of the perfect house there (much more of which below; that's really the point of this post) and the acceptance of an offer on it.
Then things took a slightly more complex turn, and the ride became wilder and wilder. I can promise you all that attempting a complex international relocation in the midst of a rapidly developing global pandemic is Not a Good Thing. Not at all. I'll spare you the gory details; there were many of them. Let's just say that over the past month, we have been in full-on crisis management mode. I'm blessed (or sometimes cursed, depending on your perspective) to have a husband who once upon a time spent 26 years in the RAF flying fast jets, who has seen his fair share of operations, and who knows all too well how quickly it can all fall. As a consequence of what I initially imagined was just catastrophising, he escalated every aspect of the move over and over again during a two-week period, leaving behind a trail of slack-jawed solicitors and gibbering estate agents, until, eventually, we left Ireland and landed in Wales to complete the purchase of this new house just one day before the UK lockdown which would have prevented it, and which would have left us in homeless limbo for the duration.
We were very pleased with ourselves, and very grateful to the gods of small actually quite big things. We turned up, complete with four border collie dogs and a cat, at a house which had been empty and effectively abandoned for well over a year, about the workings of which we knew next to nothing, since the previous and determinedly absent owners hadn't been exactly forthcoming. We turned up with sleeping bags, a bag of clothes each, our computers (thanks to everything there is which can be thanked for that) and the last remaining bits and pieces we'd managed to cram into our cars after our belongings had been taken away in Connemara for shipping to Wales. And then we made ready to camp out for a week until they arrived.
The house was beautiful but freezing, and the heating wasn't exactly as it had been described. There was a quite new LPG gas boiler, but it turned out that it heated precisely three small rooms, two of them bedrooms, and the water for only one of two bathrooms. The rest of the house, the majority, was apparently serviced by an ancient boiler stove in the living room, the inner workings of which had been dismantled for reasons we can't even begin to imagine. It took two days of systematic detective work and David's ingenuity to collect the scattered bits, and piece together something which eventually, after a few profoundly uncomfortable days, provided heat.
But to return to the day of arrival. So far so good, we thought, breathing huge sighs of relief. Then, the next evening, Boris Johnson announced the lockdown. The following morning, our movers (a large international relocation company in whose hands we had imagined ourselves to be safe) told us that they were very sorry, but even though government advice allowed for the completion of moves in progress, they were shutting down their operations and wouldn't be able to deliver our belongings to Wales after all. They would have to remain in storage in Uxbridge, near London, for as long as it took for the lockdown to be lifted.
I still can't quite grasp the ethics of a company which would leave two people, not exactly in the first flush of youth, stranded for what is likely to be weeks if not months in an empty house without a stick of furniture or anything else very much, but that's the corporate world for you. And, after the most stressful month of my life (and gosh, there have been some stressful times over the last almost six decades, but this trumped them all), there was now another crisis to solve.
Happily, the remote community in which we landed has a Facebook group, and after I posted a rather desperate plea for help on it, within literally two hours we had mattresses, desks, a piece of garden furniture for a sofa, and everything else we will need to camp out here – not exactly in comfort, but in possibility – for as long as it takes. We moved back here for community, and in spite of everything, and the fact that we knew no-one and no-one knew us, community showed up. For which we will always be grateful.
And I had a carload of useful things which had made their way over to the temporary bolthole I'd been occupying in Anglesey during what turned out to be a very brief time of house-hunting. A couple of lamps; necessary books for two or three months' work ahead; cutlery and a very few pots and pans.
At first, I felt as if the world had ended. And haven't we all felt some sense of that, each of us for our own reasons, as this situation has unfolded? An underlying arthritic condition flared up so that for several days I could hardly move; I was behind on necessary work deadlines; every live event I'd been booked for in the months ahead had been cancelled; income plummeted, and the lockdown meant that although we had landed here with little other than a very basic toolbox, there were very few possibilities for acquiring the things we imagined we needed to get to work on straightening out this lovely but sorely neglected, frayed-around-the-edges, old house.
In which many tides turn
And then, slowly, as they do, things shifted. They shifted because of this house, and because of this place. We slept our way out of utter exhaustion, and even though the temperatures were below freezing most days and spring has been late, I turned my face and my heart, as I always have done in difficult times, to this new land that I was now occupying. And to this beautiful old house. And, two weeks on from the day we landed here, I can tell you that the only thing in my heart now, in spite of being enmeshed in a liminal zone of ongoing uncertainty – as all of us are these days, in our different ways – is gratitude.
Always circling back
There's a story about this house, this land, this place. Actually, there are several stories, and many synchronicities. The most curious of them is that I've circled (spiralled) back again, to a place which once I called home. Long before I landed in Connemara back in the 90s and called that home – a place to which I circled back three years ago, and from where I imagined that all my circling-back days had ended.
Nope. Along came another calling. There's been some more circling back to do, and it all began in my teens, when Wales became a place of refuge for my mother and me from an increasingly troubled inner-city life. The area of Wales around the beautiful, historic market town of Machynlleth was the place we headed to on the rare occasions we could afford it, and after I left home for university my mother moved there full time. Shortly afterwards, she met and married my stepfather, native son of a small nearby farming village, for whom Welsh was not only a first language but his only functioning language; he was probably as close to a monoglot as Wales produced in those times. Arthur managed an enormous hillfarm, and for a very long time I spent university vacations and, later, snatched weekends and holidays, running around the hills with him as honorary second sheepdog, bundling sick lambs in the bottom cupboard of the solid-fuel Rayburn range, and feeding sweet-smelling hay to the cattle in the afternoons.
Although this area is dominated by sheep farming on an industrial scale, it was here that I first learned what it might mean to sit at night on a hillside unclouded by light pollution and gaze at the stars. Here where I first learned that the strange shrieking in the middle of the night was a vixen in heat. Here where I first dreamed of an old stone house in the hills – any hills – and uncovered a lifelong longing for wild places and clean air which has never left me and never will.
I don't think I've ever understood how much this place meant to me for all those decades, and how much I loved it, until now.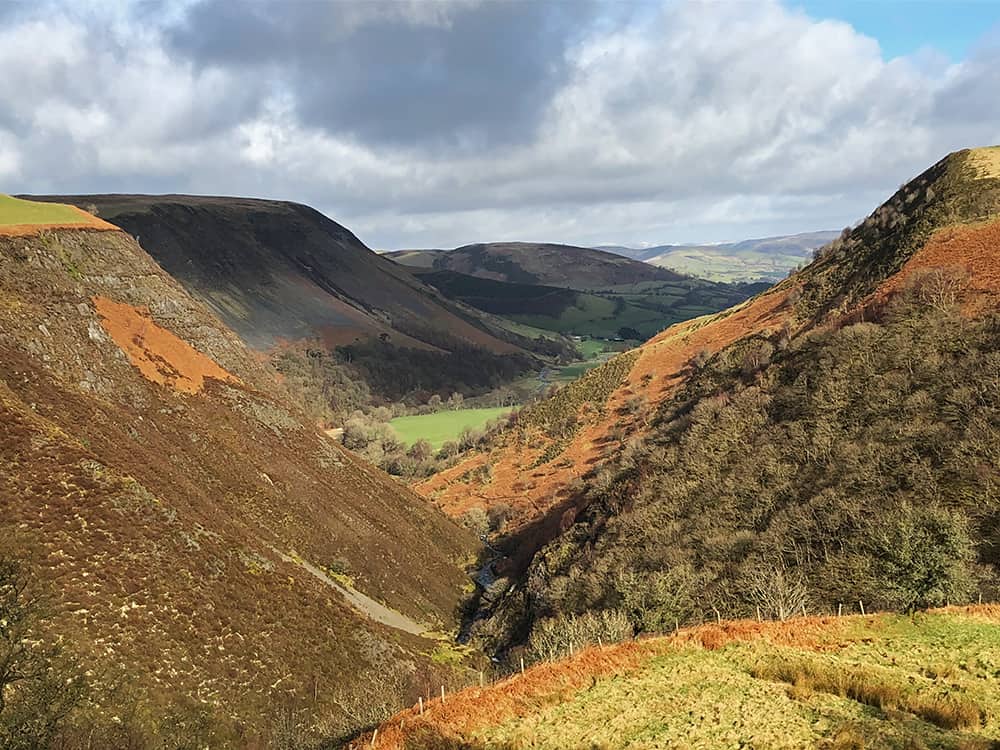 So when – quite literally – the only possible house on the market in all of mid and north Wales – the only house which was affordable, of the right size, of the right character, in the right kind of location, and which had a wee bit of land – turned out to be a house in exactly that area which had been my old haunt many years ago now, I guess (given my history is always finding the necessary house for the times) I shouldn't have been surprised. But I was, especially when I discovered that my stepfather, who had worked as a fencer before he turned to sheep farming, had actually fenced the eight acres of fields which go with this old house when he was a young man. And remembered it, and the former occupants, well.
In which a house has a history
We have sat in this old house for two weeks now, with nothing between us and its old bones except a makeshift dining room table which David constructed out of a discovered length of leftover kitchen worktop in the hayloft, balanced on two rickety old garden benches. And we have developed a love for it which has taken us both by surprise – especially my funny husband, Welsh as they come in temperament if not accent (though from far enough south that it doesn't really count as proper Wales up here), who has never really loved a house before in his life. The house loves us too. I'm sorry if that sounds fanciful. Once I lived in a house which refused us; I know how houses feel. This is a benign house. It stands strong, and true.
The house is surrounded by green fields, but don't let that fool you into thinking I've gone soft. It sits up in the hills, just over a thousand feet high, looking over the Clywedog river valley in the Cambrian Mountains.
This old house began life around 1768 as a Methodist chapel, in an area of Wales which once was a hotbed of nonconformist Christianity. It was known as Capel-y-Graig – Rock Chapel – because it rests against a rock face down which (at what is now our back door) water from a natural spring (which also provides our water supply) flows. There was a chapel room, and a parlour where the pastor lived, and that was it. A century later, after the population outgrew the chapel, a new chapel was built and the house became a farmhouse, the home of a local family who occupied it for several generations. (It was extended twice to provide more functional accommodation.)
Five days into what we were still seeing as a traumatic experience, I discovered the motherlode, hidden in a cupboard which once would have housed hymn books. A set of documents about the house's history which included pages of hand-written memories from the last native occupant, expressing such a love for the house and the land, and the haymaking and lambing, and all the community and craic (as well as the incredibly hard work) which went with being a small farmer in those days. And still does now.
Since then, we've walked fields which are currently occupied by the famer-next-door's lambing ewes. We've discovered ancient hawthorn hedgerows, an equally ancient keyhole rowan tree (surely a gateway to the Otherworld there) and a sadly unrecoverable series of tiered vegetable and fruit gardens which have been completely let go by the past two or three sets of more temporary occupiers. Well, I think we have another vegetable garden in us; we're not that old yet. Let the willow trees continue to grow in the delapidated polytunnel; we can construct another one.
At night, lying in a wonderfully comfortable mattress on the floor, I'm listening to the cries of tawny owls in the forest below, and the last stoppy-out ravens. In the morning, I wake to the sound of a woodpecker in the copse next to the house. The skies are dominated by red kites and buzzards. There are moles in the back field. So many new creatures to get to know; so many new stories of the land to uncover. I've never lived with red kites or tawny owls or moles before; I have no idea what they'll have to tell me. What new stories of place, what new myths and archetypes, will emerge from our conversations?
Even more strangely, as a woman who has spent the past twenty years living on granite and ancient Lewissian gneiss, now I find myself occupying a land whose geology is mostly sandstone and mudstone. I'm reminded, not for the first time, of the much-loved books by Terry Pratchett in which he muses that it's easy (for Granny Weatherwax, Nanny Ogg and many other witches) to be a witch on granite; it lends a certain grit, a necessary gravitas to the occupation. But to be a witch on chalk, one of his characters muses? No-one's ever been a witch on chalk; surely it doesn't have the necessary depth. Until along comes Tiffany Aching, who learns (the hard way) what it is to be a witch on chalk. And I find myself wondering – what would it be to be a witch on sandstone? How does that geology feel? What, exactly, is the nature of its magic?
There is so much to discover, as spring slowly brings the land alive, so that we'll uncover its stories now with the stories of a new growing season, with the stories of a new year. And against that backdrop, what we first imagined to be privations fade away. We are luckier than we might ever have dreamed possible. So what if we don't yet have a comfortable chair to curl up in, or our much-loved books, or the artwork which reflects the path of my soul's journey through the decades, or the fly-tying equipment which David has had since he was knee-high to a grasshopper. What if all his fencing tools are locked in a warehouse in Uxbridge; there'll be time enough for fencing when the lockdown is done. Three giant yew trees guard this house; what stories they'll have to tell.
There are six new hens in a newly renovated old hen house, and three of them are laying.
And look, the spring is flowing fast again and singing by the back door and it's time to listen, if not to the Voices of the Wells, then to the Voices of the Springs for a little while. It's time to be quiet, now. It's time to stop saying, and start listening again. It's time to put some more fuel in the old boiler stove and by mid-afternoon perhaps the water will be hot enough for a bath. It's time to fall, slowly but irrevocably, head-over-heels in love with the simplicity of an old stone house in the mountains. To be thankful that, against all odds, the delivery of paint made it here, and that I can spend the next little while painting myself into the walls, exploring every nook and cranny, uncovering all the perfections and flaws, and listening to its stories of love, laughter – and hard labour. And when the world has turned a little more, we'll offer this house books and rugs; we'll hang our paintings on its newly painted walls. My desk will arrive, and I'll write my next book here: that long-imagined book on all of the ways in which we women might grow old. If I could have one wish, it would only be this: that in this increasingly perilous world, I might get to grow old here. This old house, I suspect, will have plenty to tell me about all of the ways in which that might be done gracefully, and with good heart.