HAGITUDE
Reimagining the Second Half of Life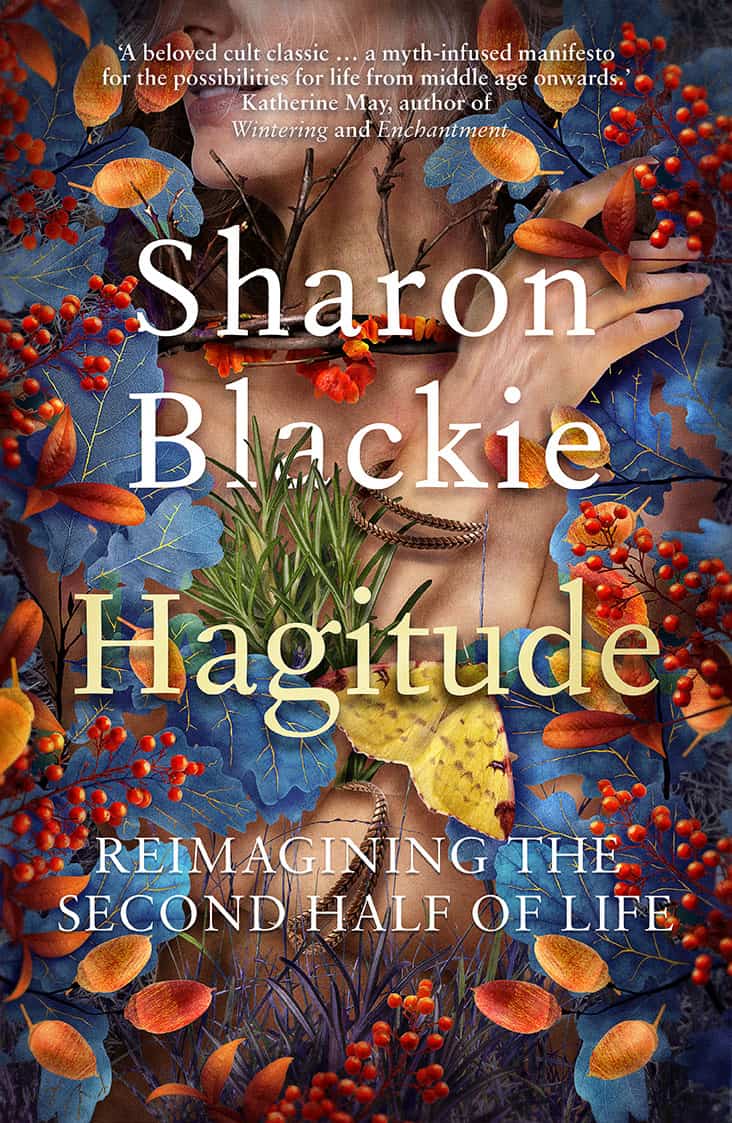 'In the oldest known cosmology of my native lands, it wasn't a sky-bound old man with a beard who made and shaped this world. It was an old woman. A giant old woman, who has been with us down all the long ages, since the beginning of time.'
Deftly interweaving myth, psychology and memoir, Sharon Blackie argues that menopause ushers in a rich and vibrant new phase of life, and explores the many different ways in which women can flourish during what is so often portrayed as a time of decline.
Hagitude unearths the stories of the little-known but powerful elder women in European myth and folklore, inspiring readers to imagine that the last decades of our lives might be the most dynamic of all. This moving and uplifting book will inspire a new generation of female elders: women who have reclaimed their Inner Hag, matured into their own unique brand of hagitude and who are ready to pass down their deep feminine wisdom for the benefit of the wider Earth community.
PUBLICATION INFORMATION
UK, Europe and territories outside of North America and Australasia
Hardback, paperback and e-book: September Publishing
North America
Trade paperback and e-book: New World Library 
Australasia
E-book: September Publishing
Trade paperback: Brio Books
Audiobook
Available worldwide, narrated by the author: Tantor
LIMITED COLLECTOR'S EDITION: September Publishing is also offering a collector's edition, which comes as a luxury slipcased hardback with a unique design and with exclusive content: a new, original story from me, based on a character of mine that some of you might know – Old Crane Woman. Each copy is signed and numbered, and includes a numbered, limited edition A5 art print by artist Natalie Eslick. The print features her beautiful portrait of Old Crane Woman. This limited edition is available to purchase at this link only.
'A fascinating book. It's well researched, packed with stories and bursting with lovely descriptions of the natural world. There's plenty in it to inspire women of every age.'
– Christina Patterson, The Sunday Times
'Hagitude is already becoming a beloved cult classic, as a myth-infused manifesto for the possibilities for life from middle age onwards.'
– Katherine May, author of Wintering
'Hagitude has the power to change lives. By sharing her personal story alongside potent female figures from myth and history, Sharon Blackie offers us a rich and exciting vision of how we can grow into a more connected and creative second half of life. Full of fierce energy, this is a book that acts like a ration of courage, of purpose.'
– Tanya Shadrick, author of The Cure for Sleep
'Like all Blackie's works it is erudite, wise, passionate and empowering – a feast and a joy of a book; a rich weaving of mythology, psychology and personal reflection that is genuinely nourishing and transformative.'
– Sophie Anderson, author of The House with Chicken Legs
'This dynamic book sets out an approach to ageing, that is not about staying at all costs young but instead advocates harnessing your power, learning from myths, archetypes and role models, and plotting a liberating new path to an elder (as opposed to elderly) woman. Bring on inconvenience, I say.'
– Editor's Choice, The Bookseller
'Blows apart cultural ideas about menopausal and post-menopausal women.'
Positive News
'A wonderfully inspiring rallying cry, an eloquent and engaging offering of a world of hope and possibilities to all the women about to enter or who are already in, the second half of life.'
– Liz Robinson, lovereading.com
Join me in bringing together a vibrant and diverse tribe of women to explore the ways in which we can flourish during what is so often portrayed as a time of decline. How can we prepare ourselves for yet another searing transformation, and move into the second half of life with a new sense of vitality, creativity and vision? 
Our story begins with the bone-deep metamorphosis of menopause. As we slowly begin to burn away old identities and outdated structures, we enter a state of conscious incubation in which a new life can be dreamed into being.
Subscribe to my free monthly newsletter, 'The Art of Enchantment', on Substack, and be among the first to hear all the latest news about my books, courses and events – as well as personal seasonal reflections and reading recommendations. You'll also receive a special gift as a thank you for joining me!
If you'd like to become a paid subscriber, you'll have access to exclusive articles, podcasts, chat and much more