In between books, you can find more of my writing at 'The Art of Enchantment' – my publication on Substack – where, for £5 a month/ £50 a year, you can have exclusive new articles and podcasts sent directly to your email inbox at least three times a month. This work weaves together ideas and practices from mythology, psychology, religion, philosophy, spirituality and folklore. You can also participate in my chat and in other subscriber-only conversations with me relating to the issues I'm writing about or working with right now.
Wise Women
Myths and folklore in celebration of older women
My next book, Wise Women: Myths and folklore in celebration of older women will be published by Virago in October 2024. Here's some detail from the press release:
Virago is thrilled to announce the acquisition of Wise Women: Myths and folklore in celebration of older women by Sharon Blackie and Angharad Wynne. Sarah Savitt, Virago Publisher, acquired World All Languages for the book from Jane Graham-Maw at the Graham Maw Christie Agency in a fiercely fought, five-way auction.
Wise Women is a collection of stories, ballads and nursery rhymes from European myth and folklore which feature older women at their centre, from acclaimed psychologist and mythologist Sharon Blackie and storyteller Angharad Wynne. Blackie and Wynne have put many years of research into this new gathering of storm-haired witches, ungainly giantesses, sequin-strewn fairy godmothers, misunderstood sorceresses, thick-waisted goddesses, hairy-chinned hags, and craggy crones. Each story is newly told by Blackie and Wynne, and there is also accompanying commentary to each tale offering background to the characters and stories, highlighting important themes and imagery, and reflecting on what it teaches us about how we might live well, meaningfully, and authentically in the second half of life.
Sharon Blackie says: 'Virago books were pivotal, when I was a young woman, in showing me how I might dream myself into being. And so I'm thrilled to be working with Virago to be publish Wise Woman, four decades later. I was truly taken by Sarah's understanding of what we were trying to accomplish with the book, and the wider Virago team's vision for it. I'm delighted too to be working on this volume with Angharad, who brings a fresh storytelling voice to stories which we hope will be told, as well as read.'
Sarah Savitt says: 'Wise Women immediately captured my imagination. It demonstrates and celebrates the full range of older women characters in European myth and folklore, who in these stories heal, test, advise, wield power and inspire. And Sharon and Angharad's retellings of the stories are beautiful and irresistible, full of dashing foxes, wild hair, curses and wishes. It's for everyone interested in myth and folklore, as well as offering a fresh angle for current conversations around menopause and ageing. We hope it will be a perfect Halloween or Christmas gift next autumn.'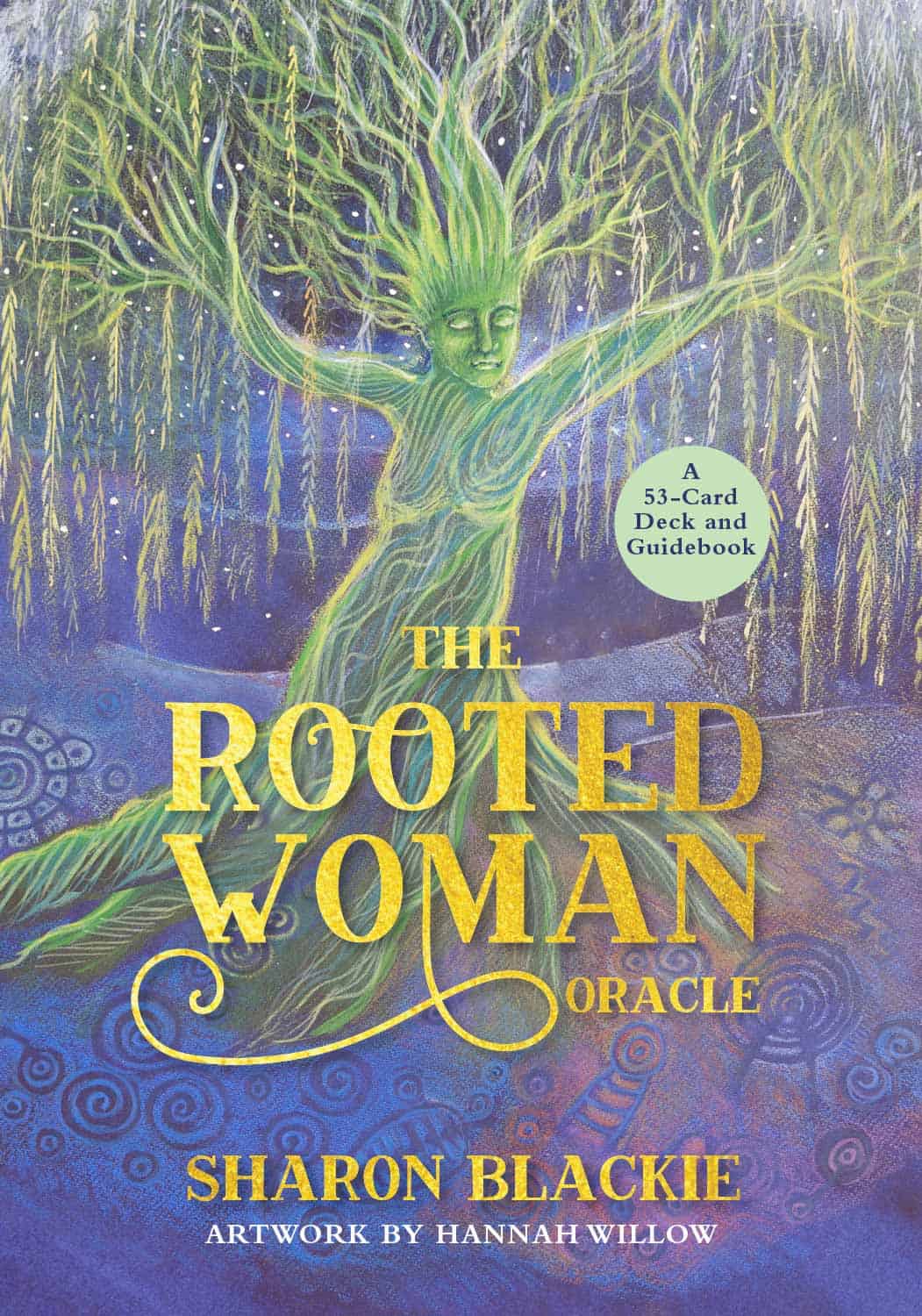 Creating The Rooted Woman Oracle has given me the opportunity to work with word and image – the foundation-stones of depth psychology – to produce a set of cards which both deepens and extends some of the ideas I offered in If Women Rose Rooted. It'll be published in January 2024, but The Rooted Woman Oracle is now available for pre-orders worldwide. It's beautifully illustrated by English artist Hannah Willow.
Here's the publisher's blurb:
Discover the transformative power of the hidden feminine with this beautiful oracle, and unlock spiritual nourishment, inspiration, and a deeper connection with nature. The Rooted Woman Oracle is a mesmerizing 53-card oracle deck from Sharon Blackie, an award-winning writer and internationally recognized teacher in the field of mythic imagination. Follow the path to unlimited creativity, greater strength and endurance, and create more flow in your life with this magical oracle. Distilling decades of knowledge and wisdom, Sharon has created a unique and magical oracle that entwines three different threads: Places, Allies, and Journey. From the inspirational 'Mountain' to the flowing 'River', you'll experience the archetypal qualities of specific places and take spiritual strength from the land. You'll feel supported by women from Celtic myth and folklore?your Allies?like initiatory Ceridwen and The Cailleach, protector of the wild; and you'll find Journey cards that reflect the different stages of the Heroine's Journey and help you follow your unique mythopoetic path through life. The Rooted Woman Oracle will help you to renew your sacred connection with nature, reclaim your power, and find authentic and meaningful ways of being in this world.
In the UK, you can pre-order from Amazon at this link.
In the US, please find links to several places from which you can pre-order on the Penguin Random House website, at this link.
Subscribe to my free monthly newsletter, 'The Art of Enchantment', on Substack, and be among the first to hear all the latest news about my books, courses and events – as well as personal seasonal reflections and reading recommendations. You'll also receive a special gift as a thank you for joining me!
If you'd like to become a paid subscriber, you'll have access to exclusive articles, podcasts, chat and much more.