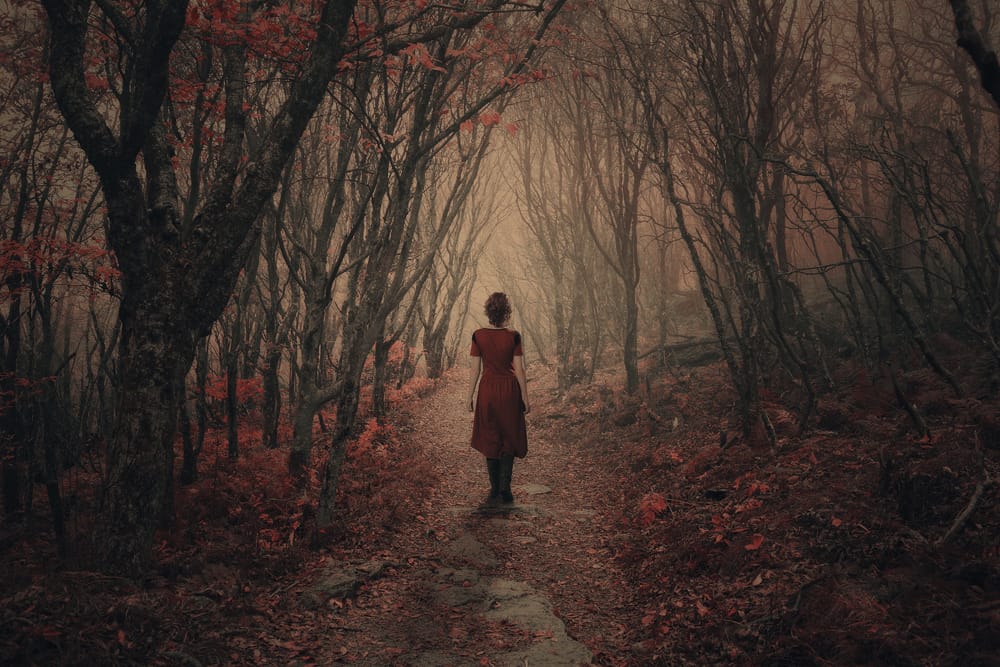 If you'd like more specifics, there's an interview with me about my approach to myth and story here:  https://theartofenchantment.net/2014/03/14/transforming-stories-an-interview/
My writing and work with myth and story emerges from my academic background in psychology, mythology and Celtic literature. Although much of what is written about folk and fairy tales in the popular media today is centered around northern European fairy tales such as those collected by the Brothers Grimm, Hans Christian Andersen, Perrault and others, my own focus is firmly rooted in the mythology and folklore of Celtic countries (and, sometimes, of Scandinavian countries; in many of the places where I have lived there is a strong Norse influence). I grew up with those stories, and am surrounded by them still. My father's family has always been entirely rooted in Scotland; my mother's family was partly Irish. After my parents divorced when I was a very young child, I was raised by my mother's new partner, an Irishman from Tipperary who danced into our lives carrying a bagful of stories and rebel songs. My mother moved to the heart of North Wales three decades ago, and married again; my stepfather's first language is Welsh. I have lived for many years on the far north-west coast of Scotland and in Gaelic-speaking areas of the Outer Hebrides; I've lived in Ireland in the Gaeltacht of Connemara, and now I am settled in the Donegal Gaeltacht. And I am married to a Welshman … Steeped as I always have been in Celtic culture, language and landscapes, it was perhaps inevitable that this would become the heart of my work.
Many years ago, I was practicing psychology whilst studying for an MA in Creative Writing; this combination of professional qualifications led me to develop a specialism in narrative psychology. I then developed an innovative and unique intensive training course in the subject (focusing, unusually in the field of narrative therapy at the time, on working with myth and fairy tales) for an organisation which offered Continuing Professional Development for clinical psychologists and other health professionals within the NHS. And in my own practice, I worked with myth, story and therapeutic writing to encourage lasting and meaningful transformation in my clients. Although I don't see individual clients right now, my ongoing work and writing sits firmly at the interface of psychology and myth.
That work is inspired by an early and abiding love, and later formal study, of literature, mythology and folklore. To deepen that expertise even further, I'm currently completing a Master's degree in Celtic Studies at the University of Wales Trinity St David (a wonderfully broad education, but I'm specialising in Celtic concepts of and voyages to the Otherworld, women in medieval times, and the Irish and Welsh origins of the Grail and Arthurian mythology). Years ago I learned to tell those myths and stories I grew up with: stories which today I use not only to enchant, but to inspire transformation in listeners. I tell stories to individuals, small groups, and larger audiences, drawing attention to the ways in which they can lead us to wilder and more authentic ways of being in the world, and to a sense of deep belonging. Mostly I offer original re-tellings of traditional myths, but sometimes I work with my own stories.
This way of working with myth and story originates in my background in psychology, especially in Jungian and post-Jungian depth psychology traditions. I am a particular fan of the work of James Hillman, the founder of Archetypal Psychology. I believe that myths and fairy tales lodge themselves in our hearts and stay with us because they are particularly redolent with archetypes – images that bridge the personal and the universal. These images are like keys, unlocking an old, deep, magical wisdom which we may never have known we had. In the vehicle of a story they become more than mere images: they become energies, embedded with instructions which guide us through the complexities of life and show us what we may become – or how we may participate in the becoming of the world.
It is because of the resonance of these archetypal images, because of the energies they convey, that myth and story have such authority in informing our relationship with the wider world to which we belong. Stories, for example, can show us what it is to have a balanced relationship with the land and with the other creatures that inhabit it along with us. They can show us a world in which everything is animate in its own way. A world in which we can learn from everything: animal, plant, rock. Myths and stories help us to re-enchant the land, to see it not just as something that is valuable to us as a species, not merely a backdrop for human activity, but as carrying meaning of its own, something powerful and somehow sacred. And at the heart of Celtic mythology in particular is our relationship with, and duty to, the land – and this is especially relevant to women. I believe we can transform ourselves and the world around us by learning from these native mythologies and indigenous wisdom traditions — always beginning by exploring them in a way that is rooted in authentic study of original sources, unfiltered by romanticisation, fantasy, fusion or modern cultural projections.
So it is that my work with myth and stories these days is profoundly ecological, focusing on the storying and re-storying – the re-enchanting –  of our relationship to land, place and nature. In spite of my own background as a psychologist, I've been concerned for a long time about the ways in which contemporary 'therapy culture' locks us inside our own heads and focuses us on our own 'wellbeing' to the exclusion of all else. Although for sure we have to do the difficult work on ourselves before we can hope to function well in the world, it means nothing if we do not then step back out into the world and see where we fit into it, what gifts we can bring to it, what we can learn from it. This re-immersion into and reconnection with the land – understanding it for its own sake, not just as a backdrop for our own activities, or for its ability to assist in our own healing – is what matters to me above all else.
If you'd like to hear a sample of my storytelling, here's one of my favourite stories. (You can follow me on Soundcloud, here. I'm planning to add more stories over the coming months, so please do sign up.)